BenQ - BenQ W5700 Premium 4K Projector
By BenQ
$3,999.00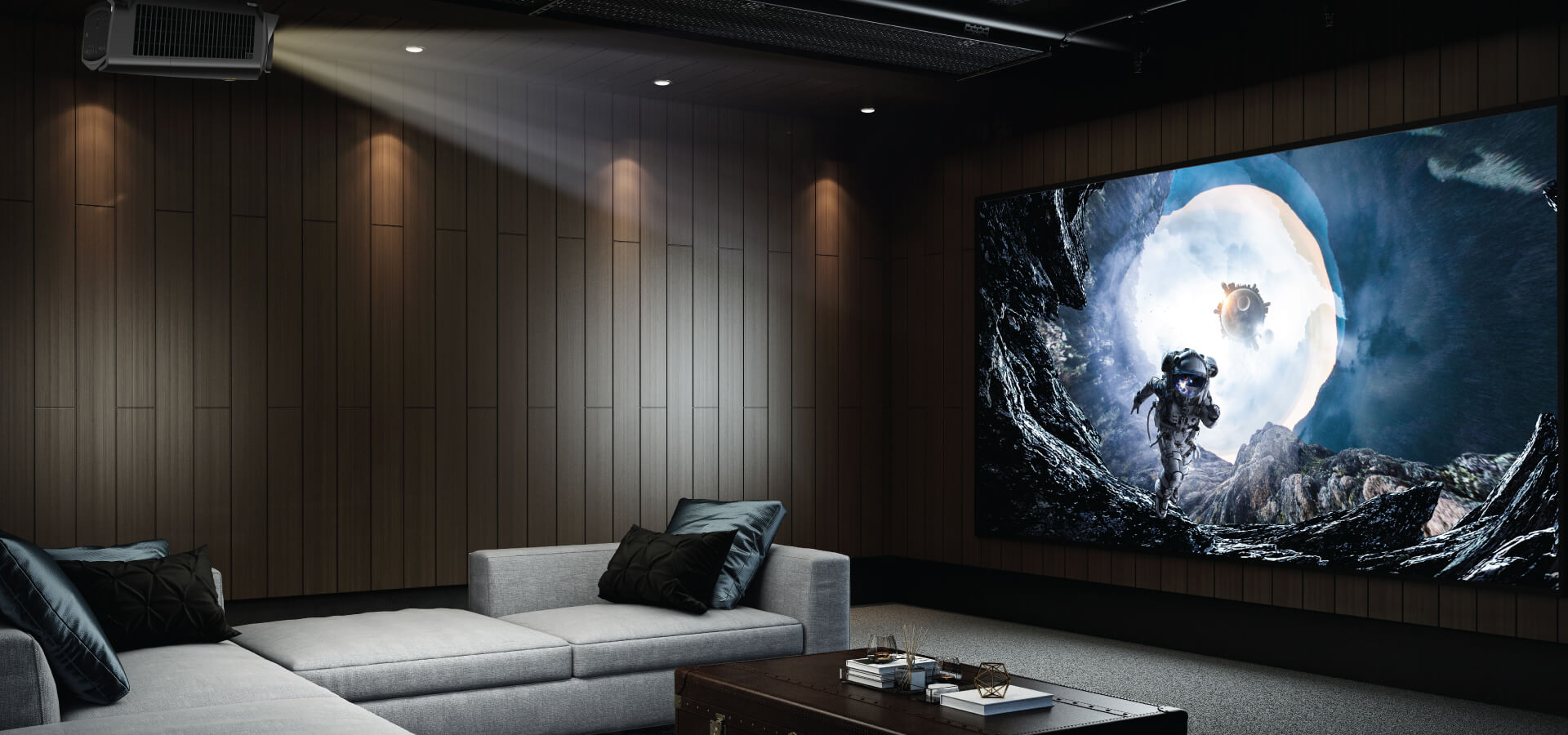 Reproduce Authentic Cinematic Colors as Directors Envisioned
Get ready for true 4K HDR with cinematic wonder like you're in an authentic digital cinema. For audio-video enthusiasts who want to take in every little detail for truly cinematic experiences, enjoy the super-wide color space up to 100% DCI-P3 with film-like texture and playback as directors envisioned. BenQ W5700 4K HDR CinePrime Projector with CinematicColor™ technology ushers awe-inspiring movie magic into your tailored AV room.
CinematicColor™ for Colors as Directors Envisioned

BenQ CinePrime W5700 4K HDR projector with CinematicColor™ technology elevates your cinematic enjoyment with a genuine movie-going experience. Powered by the super-wide industry standard DCI-P3 color space, W5700 delivers precise colors and authentic emotions to perfectly preserve the director's vision in immersive film-like cinematic experiences.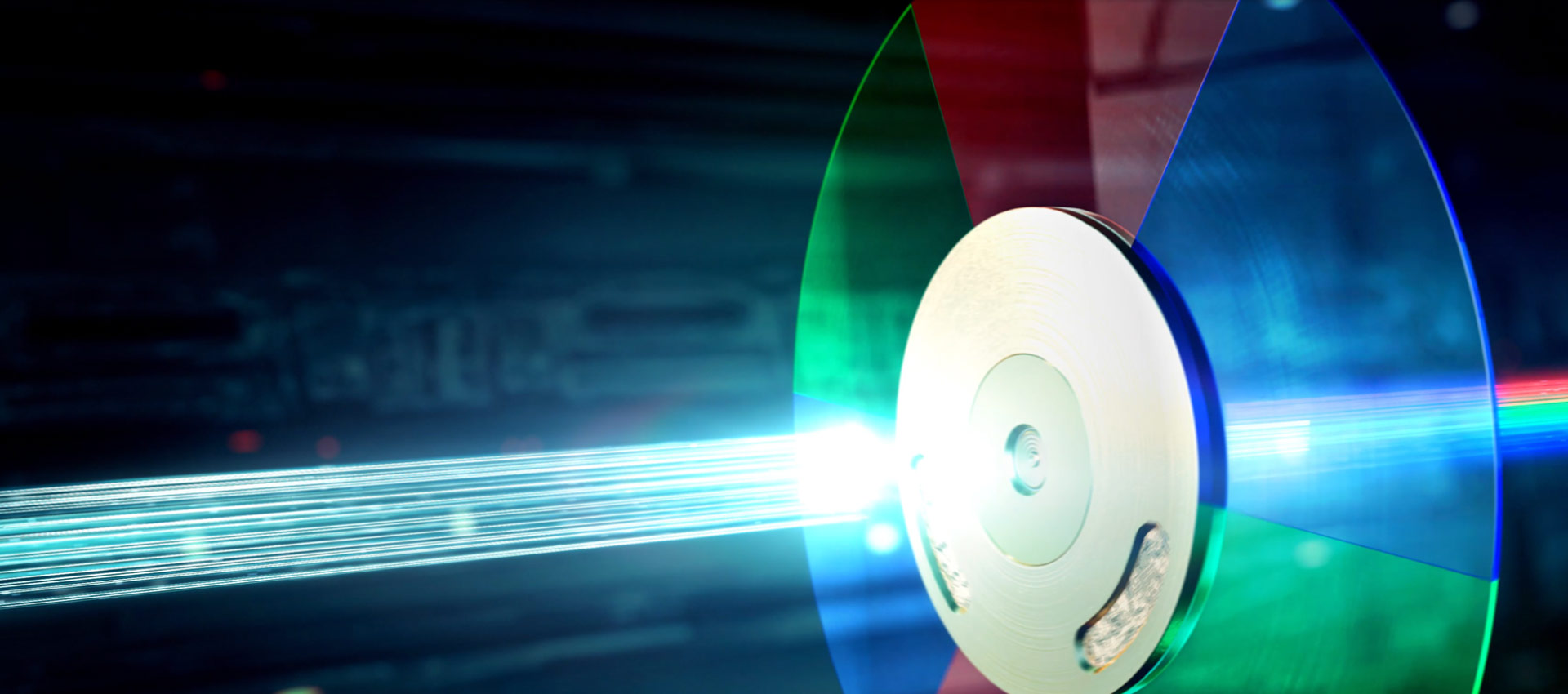 BenQ CinematicColor™ Technology
Super-Wide 100% DCI-P3 Color Rivaling Digital Cinemas
The motion picture industry's loftiest color standards guarantee accurate reproduction of cinematic HDR colors across 4K UHD devices as filmmakers intended. Enhancing optimal colors for precise picture quality, BenQ CinematicColor™ technology achieves up to 100% of digital cinema industry's super-wide DCI-P3 color space, which is 1.26 times of the Rec. 709 color space. With DCI-P3, you can enjoy richer, more lifelike colors than ever possible on a 1080p Full HD TV.

Enhanced Color Mapping for Reproduction of Natural Hues
BenQ DCI-P3 Cinematic Color technology's enhanced color mapping performs precision color rendition to unleash breathtaking visuals with perfectly lifelike colors automatically tuned to reflect natural hues when viewing DCI-P3 4K Blu-ray movies.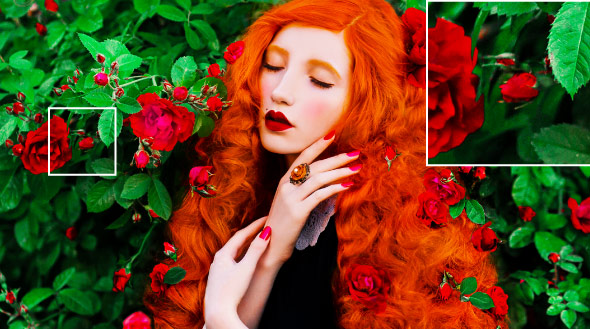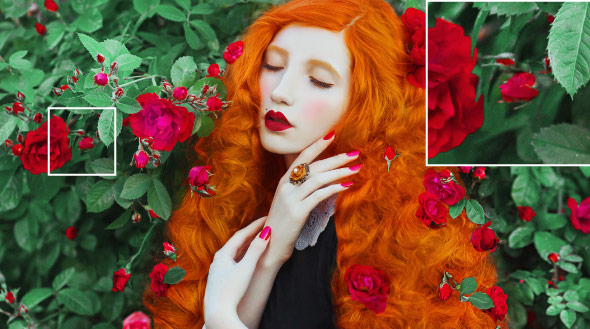 Factory Calibrated Out-of-the-Box Color Accuracy
Using special instruments and software, W5700 is tested and adjusted for precise D65 color temperature, gamma, black level, white level, neutral grey, RGBCMY color tracking, hue, saturation, brightness and output based on DCI-P3 and Rec. 709. All data from multiple interfaces is compiled for individual factory calibration reports, guaranteeing up to 100% Rec.709 and DCI-P3 color accuracy with Delta E<3* to reproduce authentic colors of Hollywood films.
*Delta E quantifies the difference between a reference color and the projector's actual color based on L*a*b* coordinates to represent "a difference in sensation." Delta E<3 performance means virtually no perceptible color difference to the human eye. (Delta E<3 performance enabled in D. Cinema modes.) ISFccc
®
Certified Visual Calibration
With the Imaging Science Foundation's highly reputed ISFccc® calibration built-in, W5700's image and color performance can be customized for any space, along with preset light balance modes for day and night.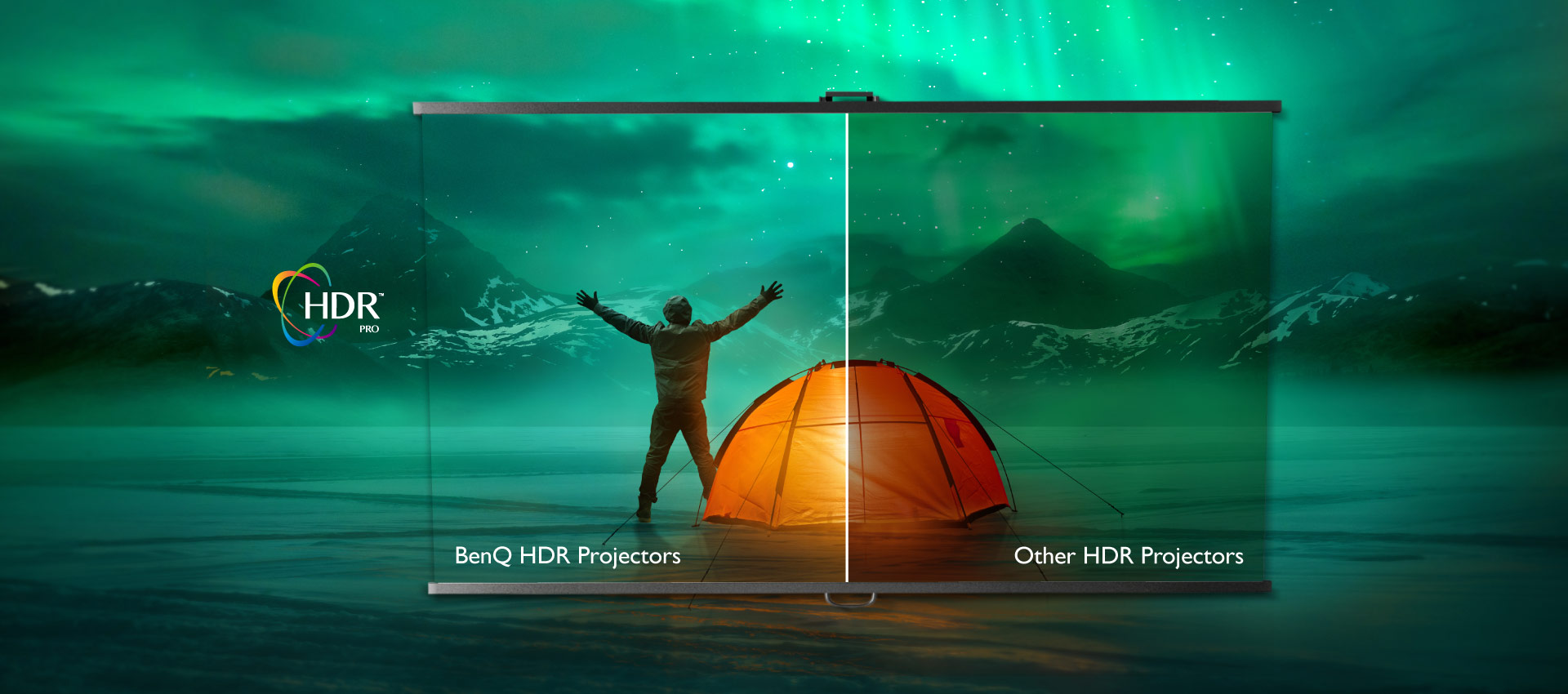 Hyper-Realistic Video Quality with HDR-PROTM
Optimized for projection, BenQ exclusive HDR-PRO technology enhances the 4K HDR viewing experience. Employing enhanced tone mapping, HDR-PRO offers greater contrast range to bring out every detail from 4K Blu-rays as well as streaming content for unparalleled cinematic enjoyment.
Enhanced Tone Mapping Preserves Dark Details
While other HDR projectors can lose details and display incorrect greyscales, BenQ Enhanced Cinema-Optimized Tone Mapping with Active Iris and Dynamic Black technology* increases contrast ratio so you can see the preserving dark details in total clarity.
*Dynamic iris controls the amount of light through the optical system for ideal contrast. Dynamic Black™ analyzes a scene's brightness levels to optimize light output and contrast. By bringing out subtle details in shadows and preventing bright scenes from washout.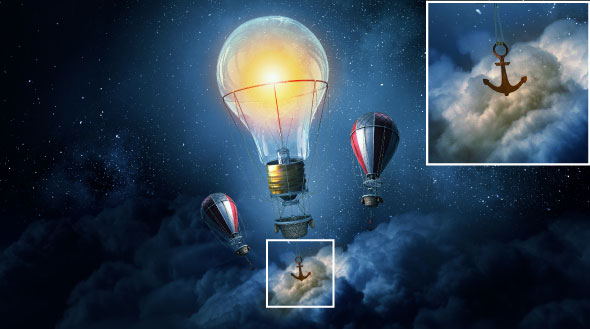 HDR Brightness Projection Optimized
HDR brightness optimization keeps ideal high contrast while projecting different image sizes and various screen gains most commonly used in home theater, ensuring greater contrast range and superior image quality when HDR mode is activated.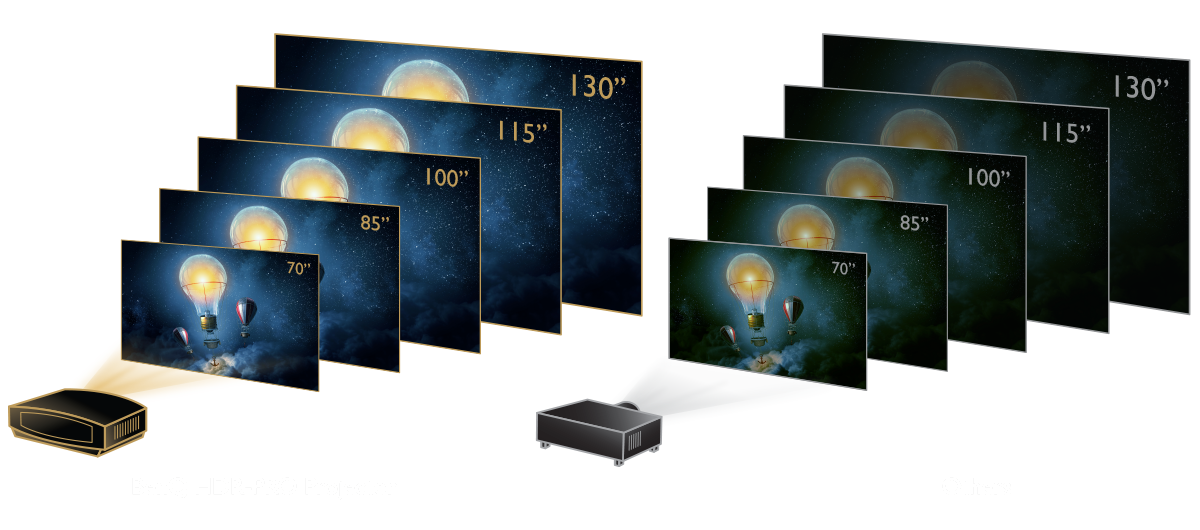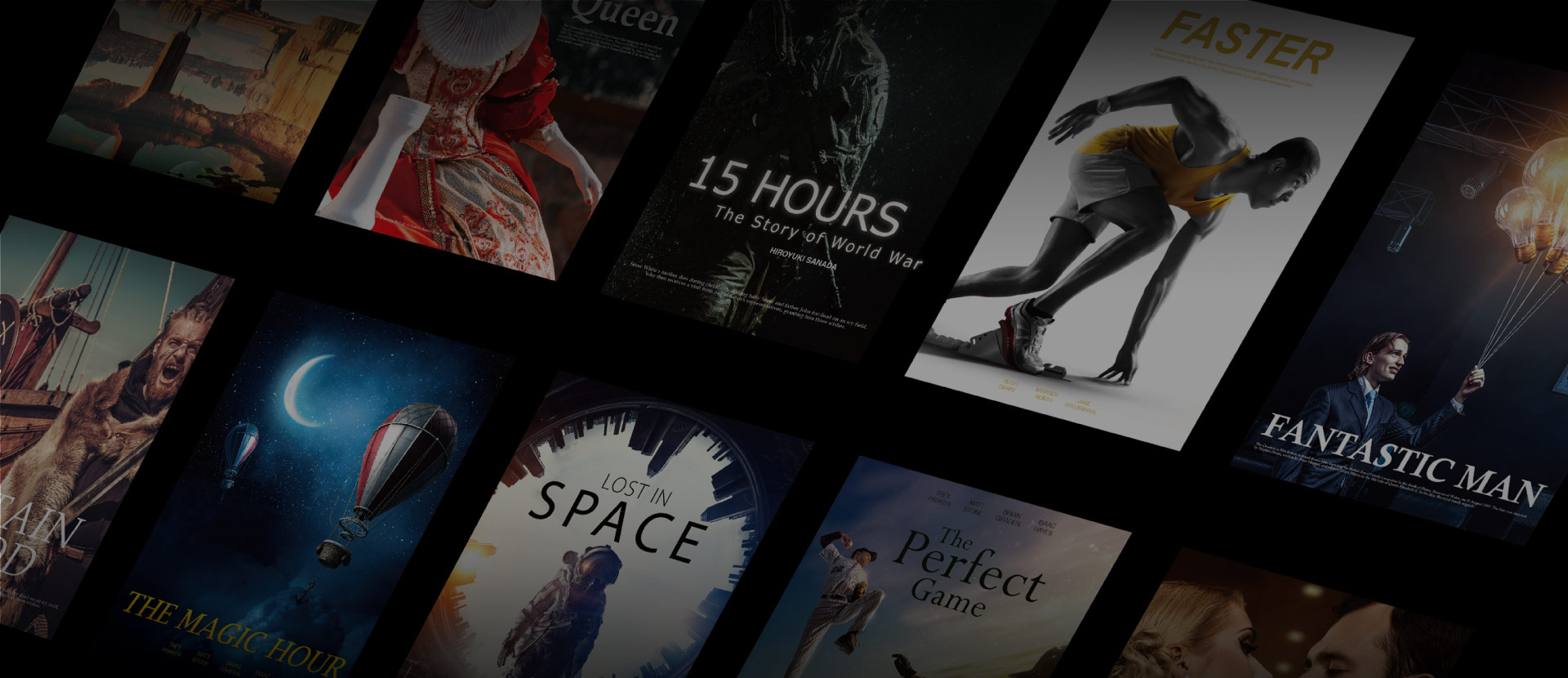 Supercharged by HDR10 & HLG
BenQ's HDR-PRO technology is supercharged by HDR10 & HLG(Hybrid Log-Gamma) support, offering incredible visuals whether you're blasting through a Blu-ray movie or streaming content, sports match on popular platforms.
* HLG is a high dynamic range (HDR) standard that was jointly developed by the BBC and NHK, supported by video services such as the BBC iPlayer, DirecTV, Freeview Play, and YouTube.
Incorporated Cinematic Aesthetics and Philosophy
To achieve fully personalized cinematic atmosphere, W5700 provides optimized movie modes tailored for home cinema and film-like motion as directors intended.
Big-Screen Movie Experiences for Living Rooms
Authentic Cinema Reproduction for Dark Rooms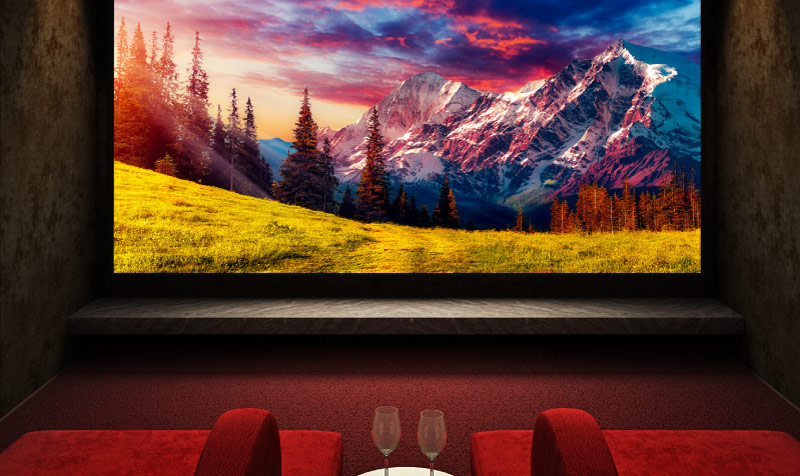 Reveals wide-ranging colors and subtle details in movies utilizing up to 100% DCI-P3 color gamut, to showcase the finest 4K SDR content in a comfortable AV room environment.
HDR Mode (Wide Color Gamut Enabled)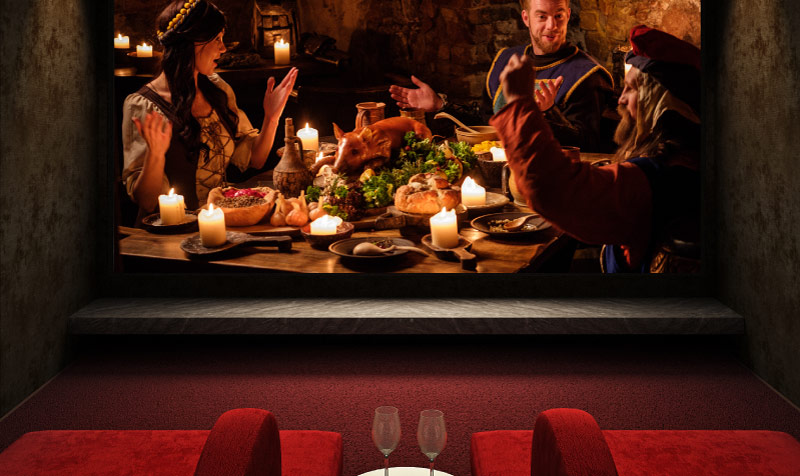 Provides the highest dynamic contrast and true color reproduction based on HDR-PRO technology and up to 100% DCI-P3 color gamut, ideal for 4K HDR Blu-rays and streaming HLG content in comfortable AV room settings.
Big-Screen Movie Experiences for Living Rooms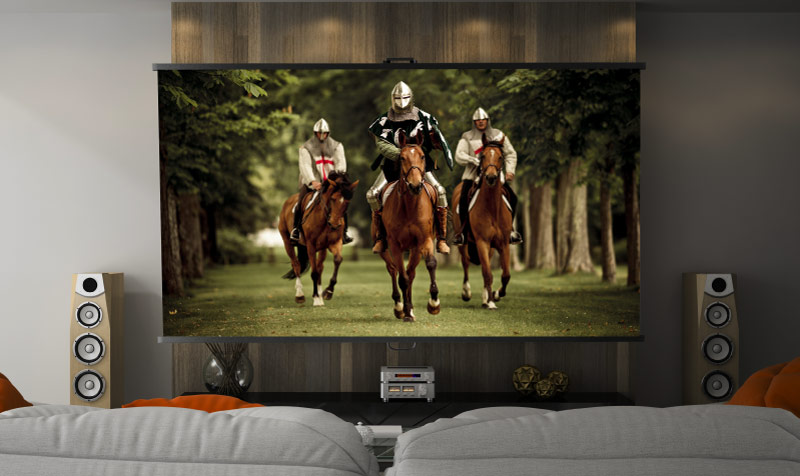 Heightened brightness to reproduce 100% Rec. 709 color accuracy for enjoying SDR movies in higher ambient brightness.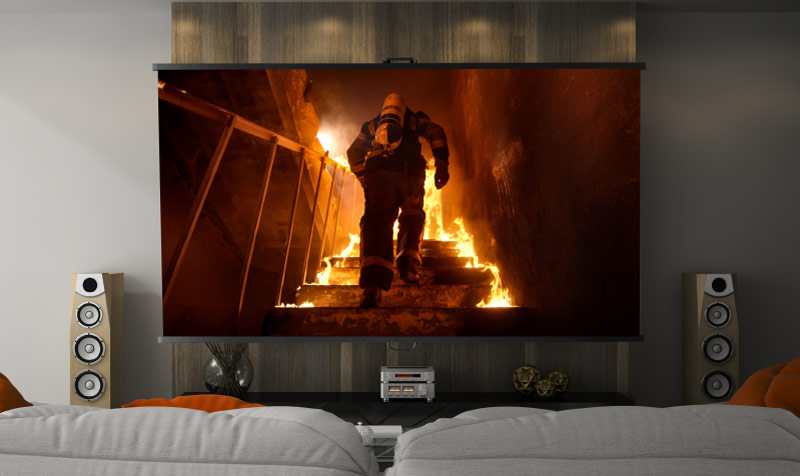 Designed for watching 4K HDR Blu-rays and streaming HLG content based on 100% Rec. 709 and HDR-PRO technology in higher brightness environments.

Film-Like Motion for Cinematic Rhythm
To enjoy the authentic movie shot exactly as the director intended, W5700 supports 24 frames per second (fps) playback which can accept high definition sources without judder in HDR mode to preserve the purity of the original image, so your 4K movies can be displayed at the correct cadence, without the need for pulldowns which distort playback of the source video.
The Art and Craft of True 4K UHD
4K UHD True 8.3 Million Pixel Perfection
Producing 4K UHD 3840x2160 resolution with 8.3 million distinct pixels for each frame, W5700 utilizes the new generation 0.47" single-DMD DLP technology to minimize the projector's sleek, compact profile for modern lifestyles. With four times the resolution of Full HD 1080p, 4K UHD reduces pixel blur for awe-inspiring clarity and crisply defined fine details.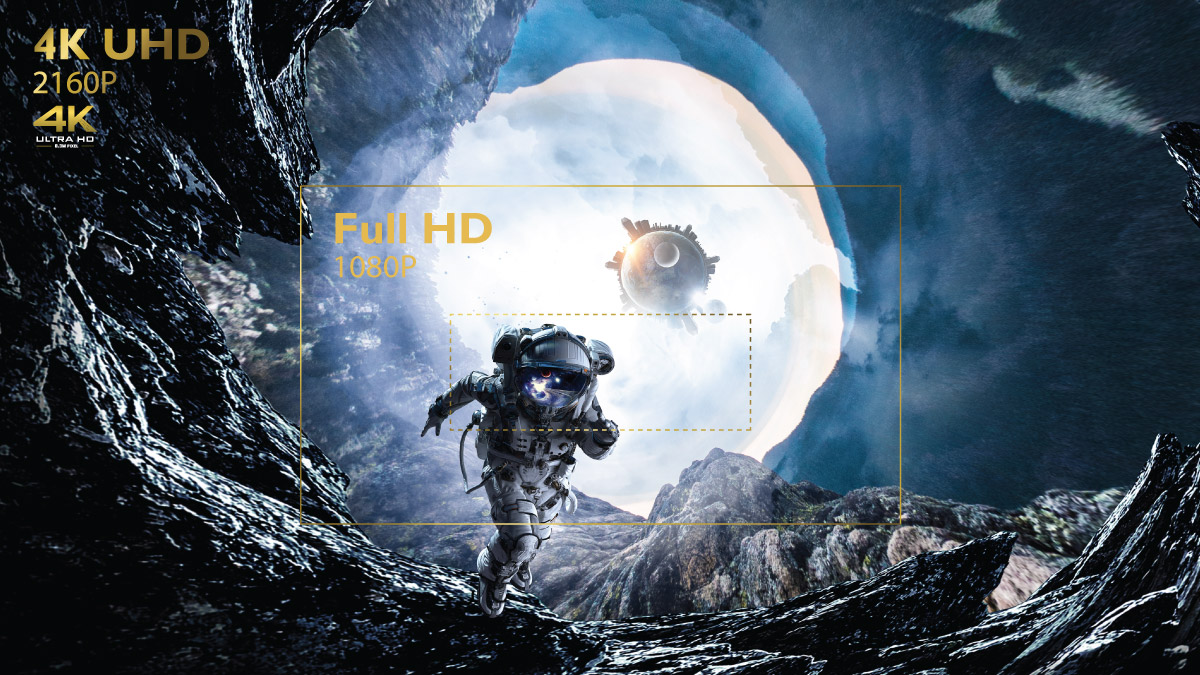 Precision 11-Element 6-Group All Glass 4K-optimized Lens Array
Super-high resolution 11-element lens array is structured into six groups with metal barrel and cell framework, far outshining 1080p projector technology with greater light penetration for long-lasting 4K intensity with heart-stopping color performance, clarity, and sharpness across the entire screen.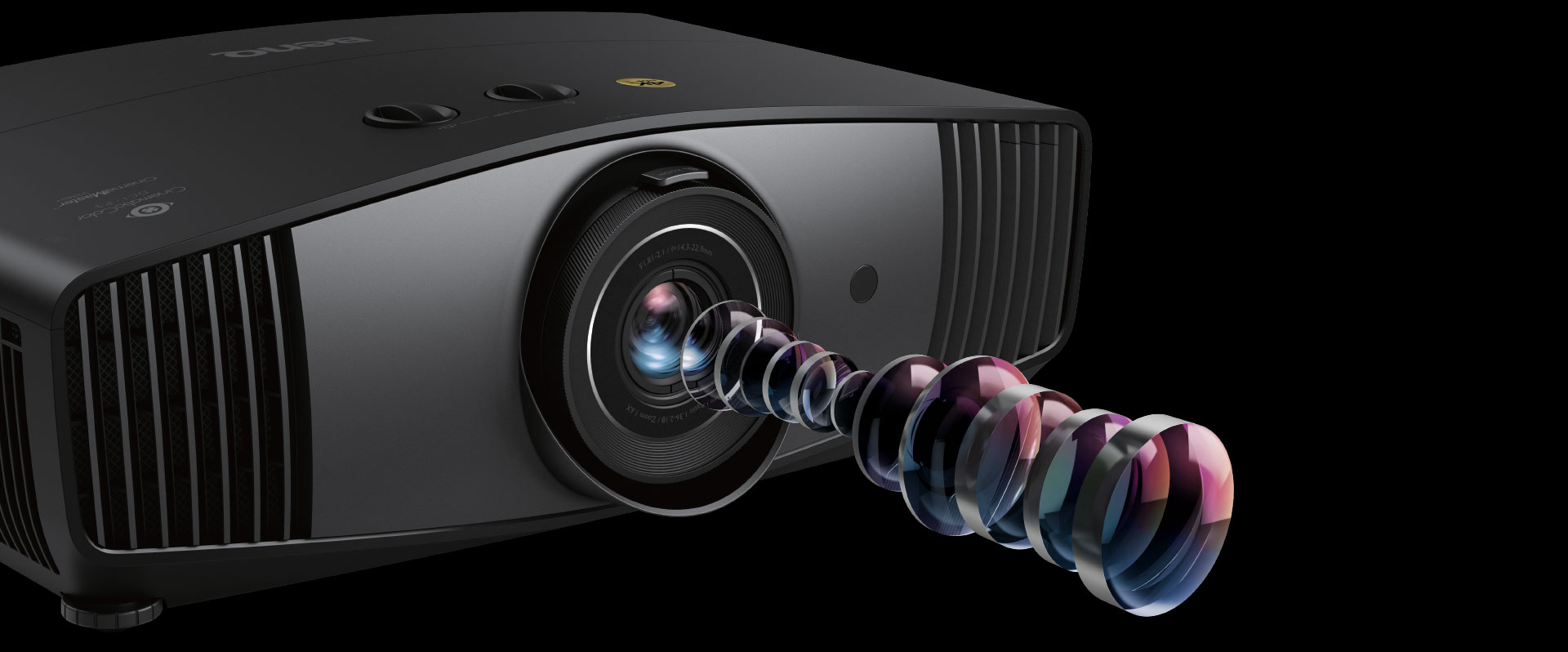 Accurate Color and Image Integrity
With the single DMD DLP technology to avoid inherent alignment issues of multiple panels, W5700 ensures immaculate image integrity and color accuracy. W5700 generates razor-sharp images and accurate colors devoid of artifacts such as blur, shadowing, and interference patterns for immaculate clarity.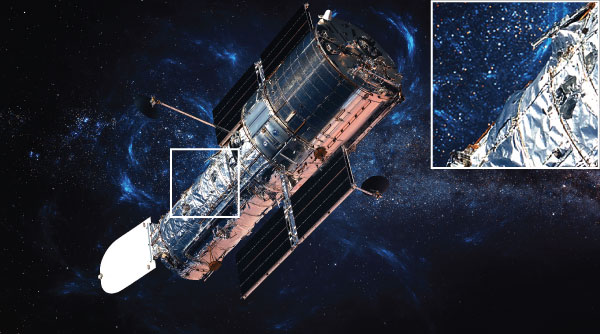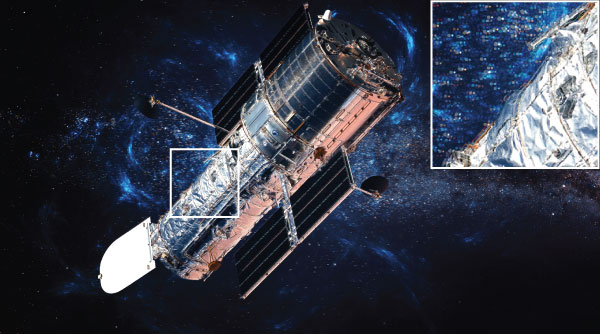 Flawless Optics for Superb Image Quality
The BenQ 4K optical system uses only the highest grade glass for superior light penetration and realistic image quality. The proprietary low-dispersion lens coatings minimize chromatic aberration, so you can enjoy your favorite 4K UHD content in brilliant clarity.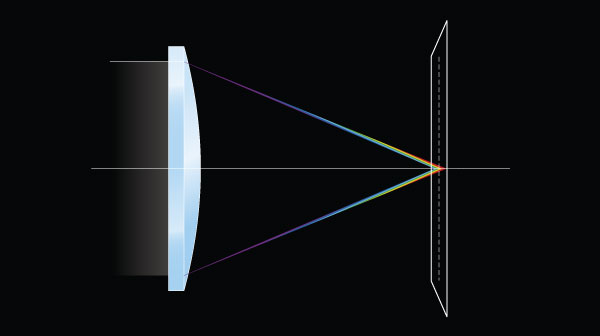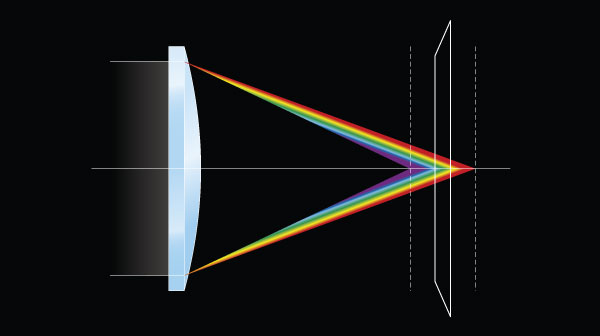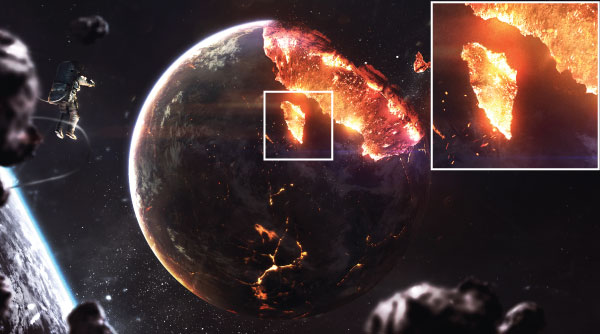 Unparalleled Audiovisual Experience


CinemaMaster Video+ for Majestic Scenes
CinemaMaster™ Video+ turns any room into a world-class home theater with video-enhancing technologies sure to please even the most critical movie enthusiasts.
4K Pixel Enhancer
4K Pixel Enhancer is a motion-adaptive, edge enhancement feature that detects changes in color between an object and its background to produce sharp edges and precise surface textures.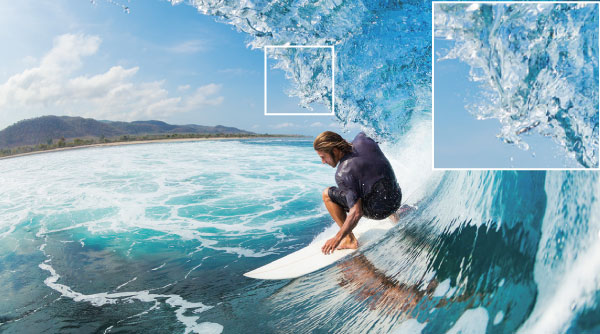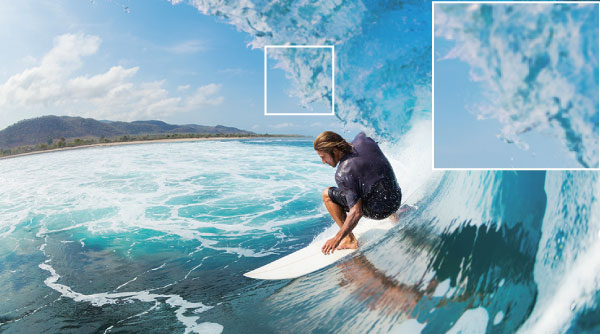 Motion Enhancer
Inserting 36 interpolated frames between sequences to produce seamless, vivid 60 frames-per-second videos, Motion Enhancer eliminates laggy images, jittery playback, and blurry shadows.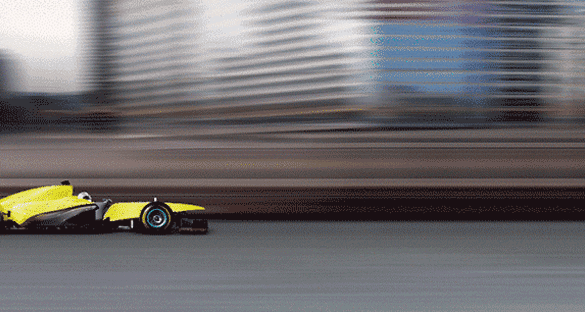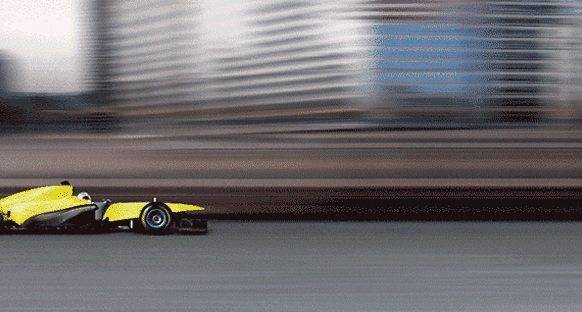 Color Enhancer
Color Enhancer modulates complex color algorithms to flawlessly render saturated colors, fine gradients, intermediate hues and subtle pigments.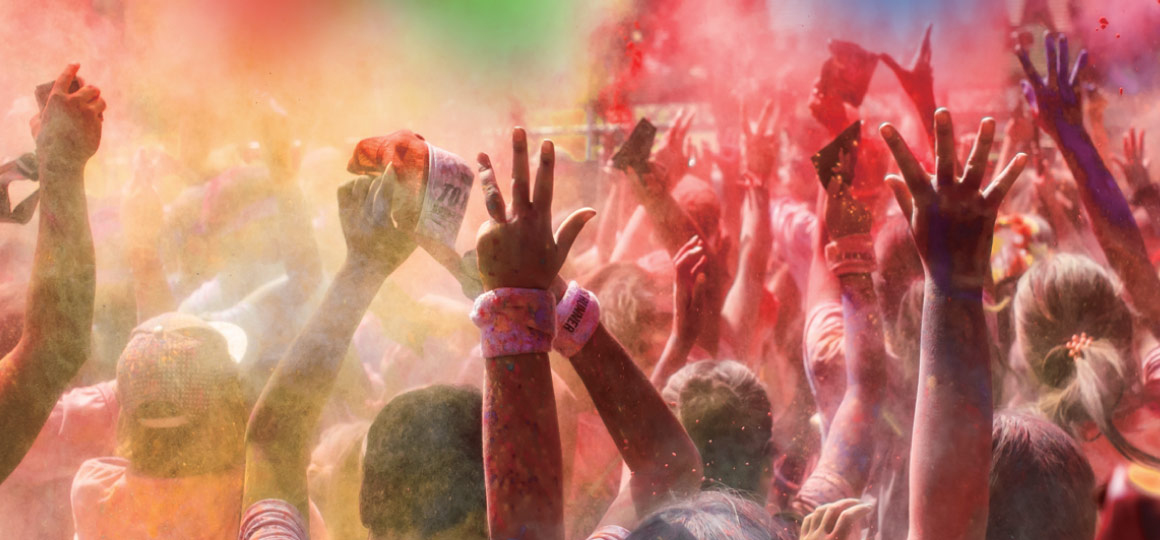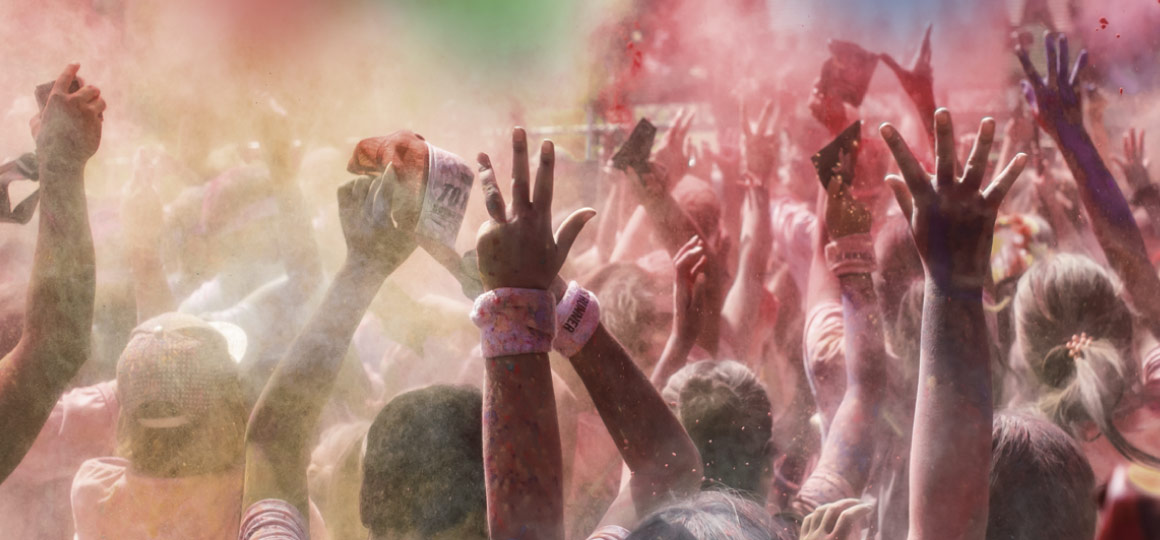 Flesh Tone
The Flesh Tone feature prevents discoloration of skin tones from the light of the projection beam, portraying every skin tone in its most beautiful shade.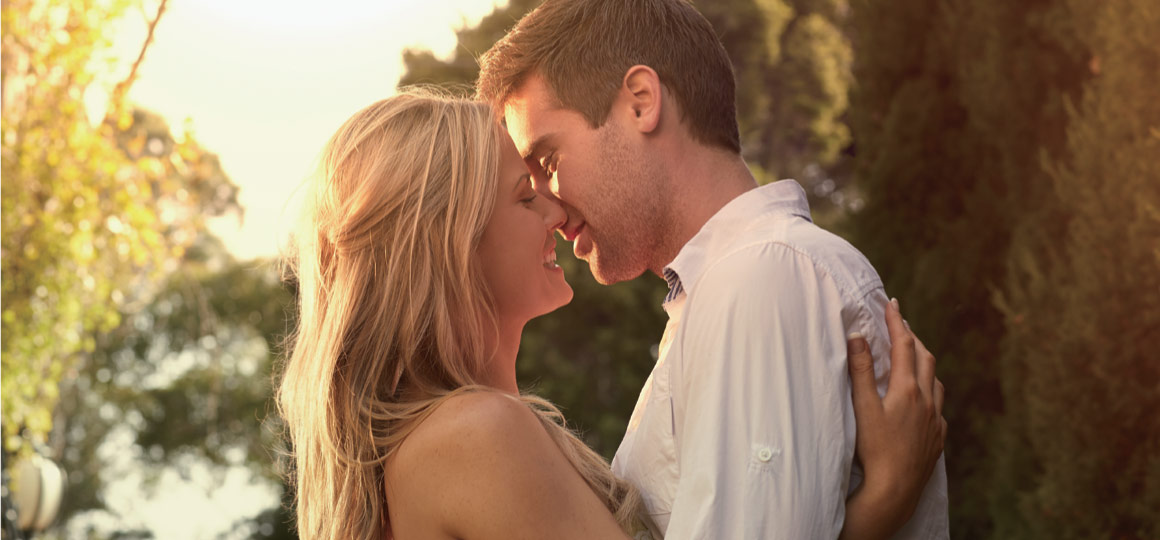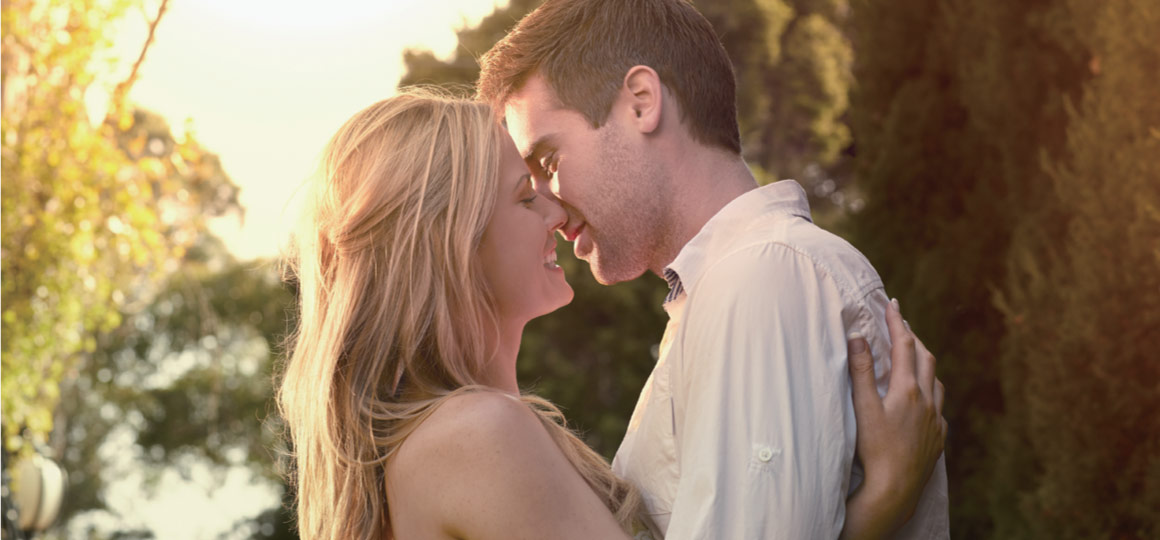 Tailored for Professional AV Screening Rooms
W5700's dustproof matte-black design prevents light leakage and accentuates beautiful aesthetics as well as intuitive functionality.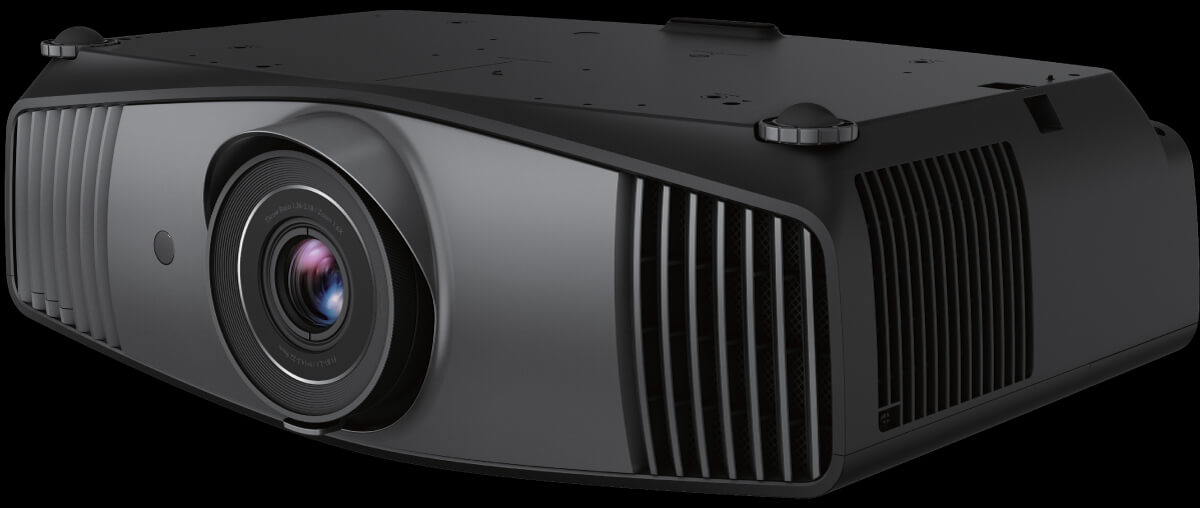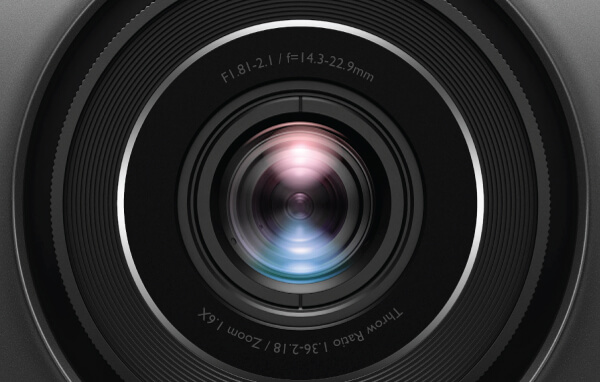 Patterned Lens Ring
Patterned lens ring prevents stray light and rearward tilt eliminates optical engine light leakage.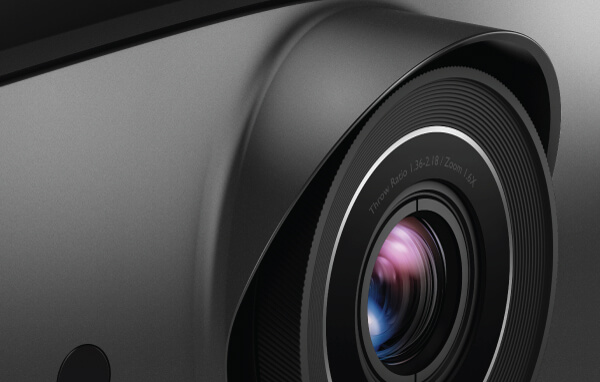 Anti-Dust Lens Hood
Anti-accumulation lens hood prevents falling dust from gathering.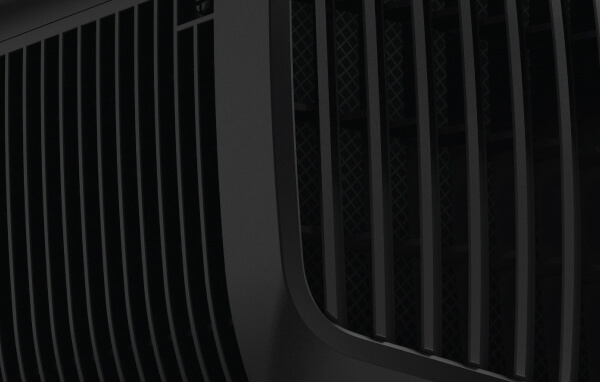 Anti-Dust Vertical Louver
Vertical louver air intake rejects dust from cooling system.
2D Lens Shift and 1.6X Big Zoom
W5700 offers H/V lens shift to fit perfectly into any room with a dynamic range of projection distances and heights. And the 1.6X big zoom offers a wide range of throw distances to significantly increase installation flexibility for diverse mounting and placement options, easily turning any space into a truly inspirational home cinema.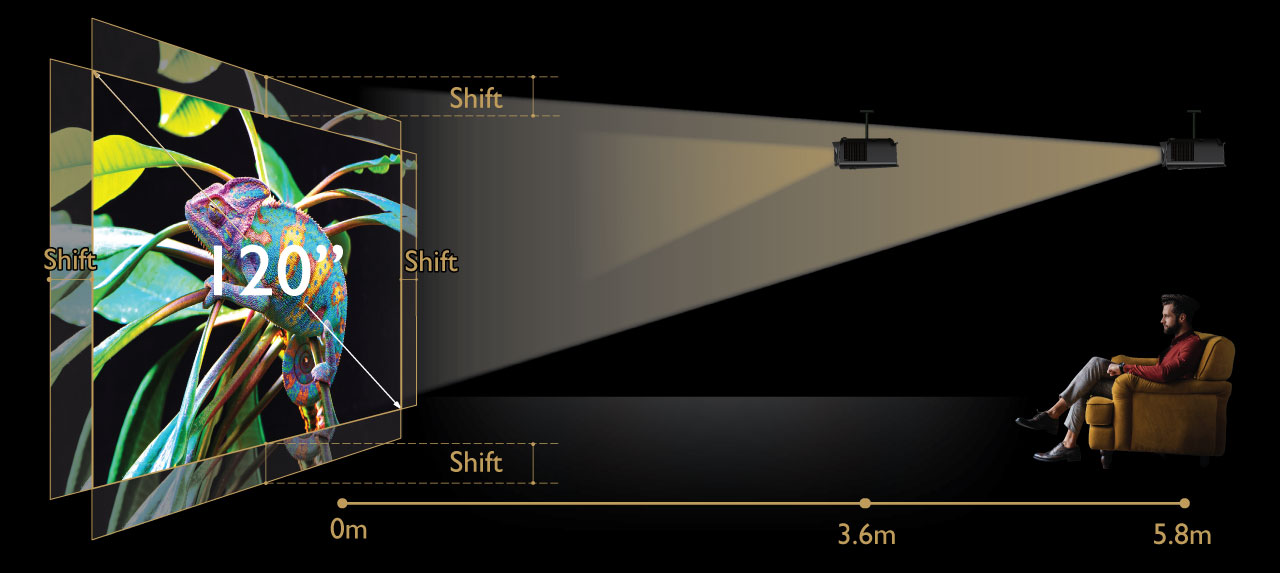 Other Details
+

Shipping & Returns
Refund & Returns Policy




GL Pro Sound prides itself on supplying high quality goods and the highest levels of customer service. We are happy to serve you at the highest level, especially in the case of an issue with the goods you have purchased. Please email us at info@glprosound.com.au within the warranty period so that we can address any problems, faults or issues.

In accordance with ACCC guidelines, we will endeavour to fix any problem, fault or issue with a good or service provided by us, within a reasonable timeframe, provided you retain your proof of purchase, have not abused or tampered with the product or service in question, or have not simply changed your mind or found it cheaper elsewhere. Also, you are not covered in the case that the issue, problem or defect was explained to you upon sale or delivery of the goods/services.

In the event that the product is not repairable, we will replace the product.

In the event that the product cannot be replaced, or an acceptable replacement cannot be agreed upon, you are entitled to a refund, or an applicable store credit if you would prefer.

All postage and insurance costs are to be paid by the buyer. We recommend that you return the product via Registered post and that you prepay all postage.

You assume any risk of lost, theft or damaged goods during transit; therefore we advise you take out shipment registration of insurance with your postal carrier. GL Pro Sound will not be responsible for parcels lost or damaged in transit if you choose not to insure.

The ACCC regulations and guidelines on the above, as well as a link to the Australian Consumer Law Consumer Guarantees can be found here:


https://www.accc.gov.au/consumers/consumer-rights-guarantees


If you have any enquiries regarding this document and/or the payment services offered by us through Shopify Payments, please email us at info@glprosound.com.au.

 

Shipping Policy

Gl Pro Sound will ship in stock goods within 48hrs some goods may be subject to be shipped within 14 days of receiving the order. All orders are shipped via Sendle. If goods cannot be processed a full refund will be offered. Shipping rates are $15 Aud flat rate 20kg and under. Over 20kgs will be calculated at checkout. If you have any queries please email info@glprosound.com.au.
You may also like